Some Projects That We Love
There are any number of great project that numerous brilliantly clever makers have come up with; in fact there are way too many to even start to describe in a short blog post like this. So, we have put our heads together to come up with a small but distinguished set of projects which we personally think are particularly worth of mention.
Raspberry Pi Powered Chess Game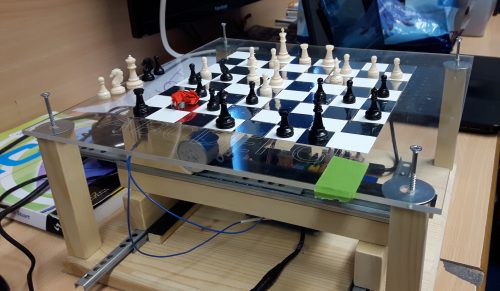 What makes Bethanie Fentiman's Raspberry Pi powered chess game particularly noteworthy is that it was done as part of an A-level coursework project. We'd been aware of this amazing project for quite some time now, and were lucky enough to see it in action at the recent Raspberry Pi 5th birthday party.
Some Useful Bits
Spiral Speaker
We've been big fans of the JustBoom audio boards for quite a while, and we really love the way that Frederick Vandenbosch has used these boards in his spiral speaker project.
Some Useful Bits
micro:bit Scalextric Lap Counter
Something I always wanted to make when I was younger was an electronic lap counter for my Scalextric track. These days I'd have no excuses for not being able to make one (apart from the fact that I no longer have a Scalextric track). We think the Kitronik micro:bit lap counter for Scalextric is a great project.
Magic Mirror
We love the idea of Michael Teeuw's 
magic mirror
 project, which was recently featured in the MagPi magazine. It's definitely on our list of projects to make (when we can find the time).
micro:bit Christmas 2016 Challenge Winners
We were really impressed by all 3 of the winning entries for the micro:bit Christmas 2016 Challenge. Looks like we'd better start thinking about our entry for this year.
Some Useful Bits
The Pimoroni ARRR600 Radio
The Pimoroni ARRR600 Radio project is a really nice little project that shows what you can do if you just happen to have an old broken Roberts radio lying around; and what we particular love about projects such as these are that they can be adapted in so many different ways to add your own personal little touch.
Some Useful Bits
Photon Garage Opener
The Photon garage opener project allows you to control your garage door using a phone or smart watch, or simply being in the proximity of your home.
Some Useful Bits
Home Automation Using Raspberry Pi and Windows 10 IoT
This is a great project that shows what you can do with a combination of Raspberry Pi and Arduino, and using Windows 10 IoT. As with many of the other projects mentioned here, this awesome home automation project can be adapted and extended in numerous other ways to suit countless different applications; limited only by your imagination.
Some Useful Bits